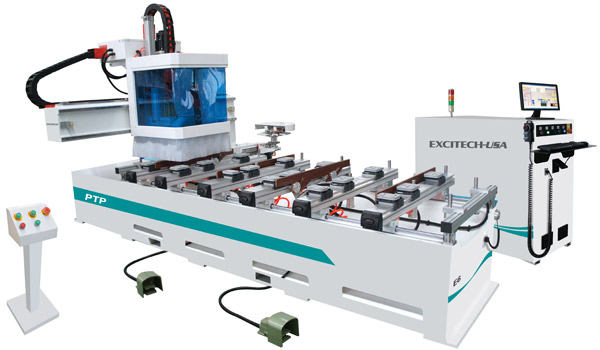 Excitech USA's P2P is available in three sizes. Each machine is controlled with the new Open Series Osai Industrial Controller which is leading state-of-the-art CNC control technology. The P2P machine is driven with high power AC Servo motors for fast accurate cutting and spindle positioning. The machine includes an Italian 12 HP HSD ATC spindle, German Fam drill bank, Schmaltz vacuum pods, and a Becker pump. These high quality components makeup an extremely reliable CNC production work center for any size fabrication shop at an unsurpassed price. This guarantees shop owners will get a return on investment in a shorter period of time thus providing an extraordinary price to performance ratio.

E6

Construction Features


8 Tool Rotary Carousel



The use of a carousel speeds up tool changes assuring faster cycle times increasing production throughput.

12 HP HSD automatic tool changer spindle with an 8-tool rotary carousel


High powered AC servo motors and drives


Full safety enclosure on gantry


Fam drill bank, Rail and pod which accommodates Schmaltz vacuum pods


High powered PC Based CNC motion controller
Full Safety Enclosure on Gantry


Keeps operator safe from any loose or flying debris as panels are processed. In addition, the safety enclosure includes interlocks on the doors so that when the operator is loading or changing drill or router bits the machines operations are halted.
Spindle


The E6 Point to Point production work center comes standard with a 12 HP HSD high frequency automatic tool changer. This precision spindle requires no maintenance, uses industry standard ER collets and ISO 30 tool holders. Fully programmable speeds from 6000 to 24000 RPM, and comes complete with pneumatically retractable vacuum hood.

Machine Base Frame


All frames are designed using state-of-the-art CAD/CAM software which analyze stresses applied to the frame's structure, also known as Finite element analysis. This state-of-the-art leading edge technology assures the support foundation is structurally stable that will last the test of time. Each frame is stress relieved assuring long term stability in the frame structure mechanics.

Gantry Support Weldment


Following the same design criteria as the frame, the gantry support includes key webbed gussets which carry and transfer loads to the support carriages. The gantry support design mechanics are all steel construction. Each assembly is stress relieved for long term stability. The Gantry support design is an extremely heavy weldment which assures the spindles will run true and provide the stability for smooth accurate cutting.

Gantry Construction Assembly


Following the same Finite element analysis, the gantry is designed of tubular steel with internal webbed gussets and rail struts for carrying the spindles.
Helical Racks


German manufactured ground precision helical rack-n-pinion assure high speed precision motion.

Drive Motors


Yaskowa high powered precision servo gear motors. X=1.8kw, Y=1.7kw, Z=0.85kw with pneumatic counterbalance.

Gearboxes


The German manufactured gearboxes coupled on the AC motor servo drive directly drive the axis which provides the power from the motor directly to the helical pinion. This direct driven design eliminates movement within the drive mechanics.

Bearings


All three axes use precision linear guide rails and bearings manufactured by THK industry leader in linear motion products.
Pod and Rail


Activated through pneumatic foot switch allows the operator to load and unload each station as required. Each rail can hold up to 8 pods. Each rail assembly comes includes 3 pods, rear alignment pin, and lower lift guide bar. Boards can easily be slid into position banking against pneumatic side bar and rear pop-up pins making for accurate board alignment on the machine. In addition, a pneumatic lower lift bar allows the board to slide in place above the rubber pod. Upon activation the board is vacuum clamped and ready for drilling, sawing or routing.

Fam Drill Bank



14 Vertical + 6 Horizontal + 2-saws

or

9 Vertical + 6 Horizontal + 1 Saw (shown on right)


Vacuum Pump


TEFC (totally enclosed fan-cooled). Rotary Vane Vacuum Pump

Available in 230/460V, 50-60Hz, 3 ph or single phase
Comes standard with motor starter, vacuum gauge, primary and secondary filter, check valve and all necessary plumbing to connect to router

Rated for ultra quiet operation

Lubrication


The Point to Point machine includes lubrication oil pumps for each axis making for easy machine maintenance.

Dust Collection


The Point to Point machine includes overhead vacuum ducts with a 6´´ main connection.

Debris Trough


The machine is designed with an angled debris trough with access ports in the front of the machine. This allows debris to drop down and out the front of the machine making for easy clean up of the machine.

Hand-held Pulse Generator


The Rotary hand wheel, attached to the machine, will control the axis that is selected on the wheels dial. All other functions are disabled when this is active.

The Setup Introduction manual provides information that will have users cutting parts in minutes.

CNC Windows-Based G-Code Interface


is included with each P2P machine and is an indispensable tool in any CNC Router application. It's open architectural design accepts G-Code files from any industry standard CAD/CAM software package. The jogging buttons, speed controls and run displays are all visible on the main page. The intuitive single-screen design and functions are easy to use and remember. Customers that are new to automation find the Excitech-USA CNC Interface easy to learn and operate. Most are up and running in less than one day. Customers soon discover that just because the Excitech-USA CNC Interface is easy to use does not mean that it is not a comprehensive CNC program.

Several impressive features include:




Built-in editor for shop floor modifications

Machine feed rate and spindle override control

Continuous step jogging, or convenient hand-held pulse generator can be used to fine tune positional locations

Mechanical homing location controls (at any corner of the machine)

No DNC link required

Allows for up to 10 fixture offsets

I/O machine status display

Skip function to return to program positions (in case of tool bit failure)

Convenient vacuum pump switches on interface
Copyright © Excitech-USA, Inc. All rights reserved.